Welcome to the latest edition!
We have a big year ahead of us and we're excited to share our progress with you. Read on for updates on soon to be released resources, upcoming events, job opportunities within the team and much more.
Upcoming Events
Annual National Stillbirth Forum
The Annual National Stillbirth Forum is happening in October 2023. Keep an eye out, dates to be released soon!
Placental Consortium Seminar Series
The Placental Consortium Seminar Series is held on the third Wednesday of every month (April to November) and is a platform for researchers and clinicians to come together to understand the placental mechanisms that may contribute to stillbirth. The consortium aims to bring together experts from Australia, New Zealand, and other parts of the world to share their research, ideas and to form collaborations.

Series starts April 19, 12pm-1.15pm AEST, click on the link below to register.
ISA Conference 2023 - Reducing Inequality Local to Global
The University of Sheffield is hosting the 18th annual conference of the International Stillbirth Alliance (ISA), which also marks the 20th anniversary of the ISA's founding.
Across the world, researchers, healthcare professionals and families are working together to address every aspect of pregnancy loss. Together, we strive for excellence in our practices, research facilities, and communities to increase knowledge and save babies across the globe.
ISA conference, 29th June - 2 July 2023 register below.
QLD Women's Health Forum
A workshop on the first 2000 days of life and its impact on women's' health across the life course, held on the 8th June – 9th June 2023.
---
Program Updates
COCOON Philippines Launch
The COVID-19 pandemic disrupted maternity care services worldwide. In partnership with the International Stillbirth Alliance (ISA), the COCOON Global Collaboration was formed to investigate parent experiences of maternity, neonatal, and/or bereavement care during the COVID-19 pandemic and impact on parents' psychosocial wellbeing. A cross-sectional online survey has been administered across 15 countries, and a nested qualitative study has been conducted across 7 countries to further explore the impact of the pandemic on parents who have experienced perinatal loss.

Recently, COCOON was launched in the Philippines. The launching event was attended by stakeholders from the Department of Health – Philippines, Philippine Centre for Health Research and Development, administrators from hospitals and birthing facilities, and community health workers. The team also conducted a stakeholder workshop to identify approaches and channels to disseminate and translate COCOON findings.
During the launching event, Assoc Prof Fran Boyle, Dr Siobhan Loughnan, and Dr Michelle Carty gave opening presentations to provide a global overview of the COCOON study and highlight the importance of research on stillbirth and bereavement care.
---
Project Engage
Finalised, endorsed and ready to go!
We are so grateful to the many bereaved parents who provided feedback and content to make this guide so special. Planned release for April.
Getting involved in stillbirth research: A guide for bereaved parents
Project Engage connects bereaved families with the research process.
Involving those who have been affected by stillbirth in the research process in a meaningful way ensures that the issues important to bereaved families are heard and prioritised. This ultimately helps the Stillbirth CRE to produce research of greater quality and relevance, to help reduce stillbirth rates, and ensure that parents and families receive the best possible care when a baby dies. Many bereaved parents want to be involved in stillbirth research and would value a resource to support this. Through Project Engage we have co-created a guide, which aims to demystify the research process for bereaved parents.
---
Career Opportunities
We have some great opportunities within the Stillbirth CRE team, if you are interested in learning more please see below links.
Senior Research Fellow - Stillbirth Research
https://careers.mater.org.au/en/job/497689/senior-research-fellow-stillbirth-research
Project Officer - Stillbirth CRE
https://careers.mater.org.au/en/job/497643/project-officer-stillbirth-cre
---
Awards
Stillbirth Future Leaders Fellowship Winner
We are very happy to officially announce Dr Teresa MacDonald as the winner of the Stillbirth Future Leaders Fellowship. This fellowship is designed to support exceptional early career stillbirth researchers whose projects align with the CRE's priority areas and make a meaningful contribution to the CRE's program of work.
Dr Teresa MacDonald is a Clinician Scientist Research Fellow with the University of Melbourne; and she works clinically as an Obstetrician at Mercy Hospital for Women. Teresa obtained her PhD in 2019. She investigated new ultrasound and blood-based biomarkers to better detect fetal growth restriction and poor placental function to reduce stillbirth. Her post-doctoral research continues in the same field.
The Stillbirth CRE's Future Leaders Fellowship is supporting Teresa in continuing her research program. In particular, Teresa's work aims to improve diagnosis of fetal growth restriction among 'appropriately grown' fetuses, by identifying those with slowing growth. Teresa has previously showed significant links between slowing fetal growth rate and poor outcomes due to placental dysfunction, even when babies are not small. Slowed fetal growth shows promise in alerting clinicians to an under-investigated group at potentially increased risk of stillbirth.
Teresa has now curated a retrospective cohort of 24,418 pregnancies with ≥2 ultrasounds from the time of the routine mid-pregnancy fetal anatomy scan or later. From these, fetal growth rate will be tested to determine its relationship with important outcomes related to fetal growth restriction, including: perinatal death, poor infant condition at birth, small (<10th centile) or severely small (<3rd centile) infants at birth, and significant neonatal nursery admissions. Teresa will quantify the risks of slowing growth, and investigate the relationship between slowing growth and levels of a new promising biomarker of placental function that circulates in the blood of pregnant women – SPINT1 – first discovered through her PhD. Teresa's research aims to determine when ultrasounds to assess fetal growth can be done to best identify babies at risk. This will be critical information to allow assessment of fetal growth rate to become part of standard care in the clinic, whenever a growth scan is done.
Details COMING SOON for this years PhD Top Up Scholarships and Future Leaders Fellowship!
---
What's happening at the Stillbirth CRE
Say Their Name day
The @Rednose Say Their Name day occurred on Saturday the 25th March. Say Their Name Day helps raise awareness of pregnancy, baby and child loss. At the Stillbirth CRE we know that recognition of parenthood is an important part of best practice care and support when a baby dies. Saying their name acknowledges parents and their baby. #saytheirname

---
PSANZ 2023 conference in Melbourne - Highlights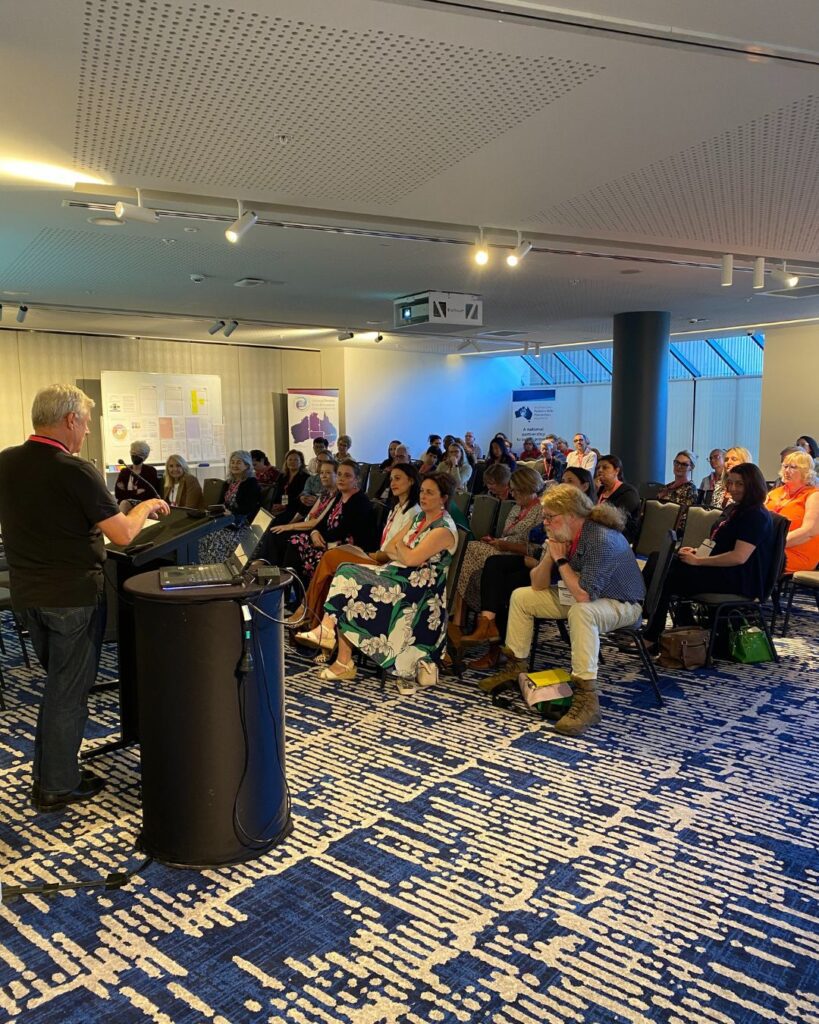 The Stillbirth CRE hosted two sessions including a pre-congress and Symposium session. The Pre-congress meetings focused on best practice around stillbirth and neonatal death. We had some great discussion around the guidelines updates and some powerful parent stories highlighting the importance of implementing best practice care. The Symposium was a fantastic opportunity for a global update which including having some of our international collaborators present.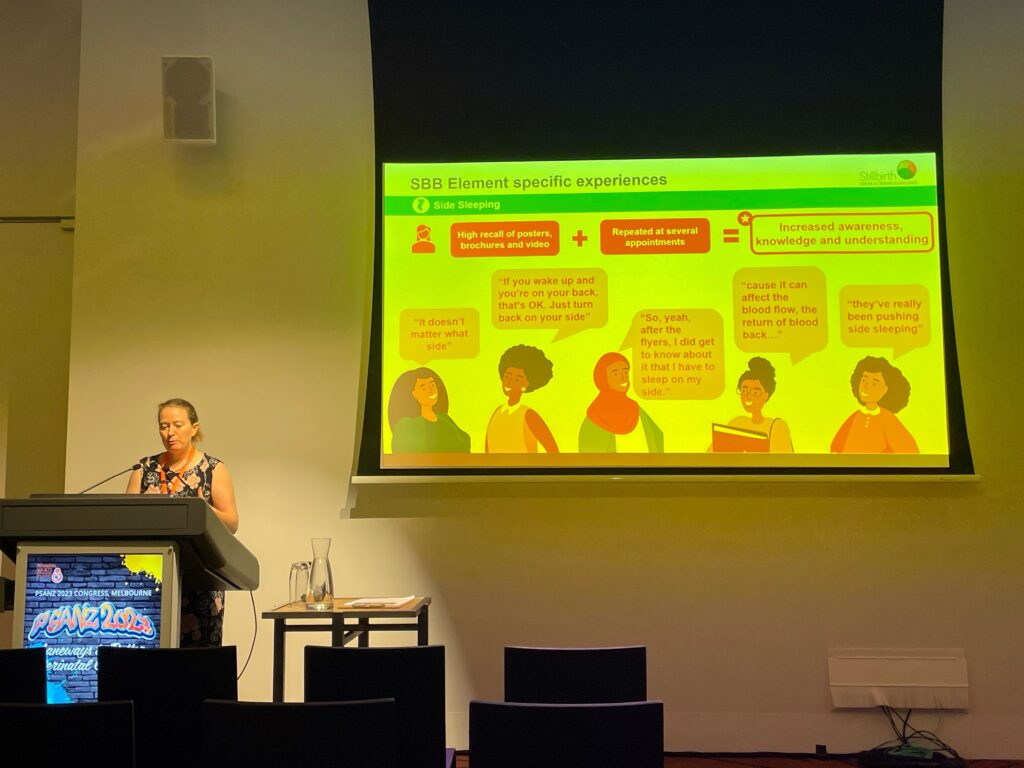 Key presentations by Stillbirth CRE collaborators were well received.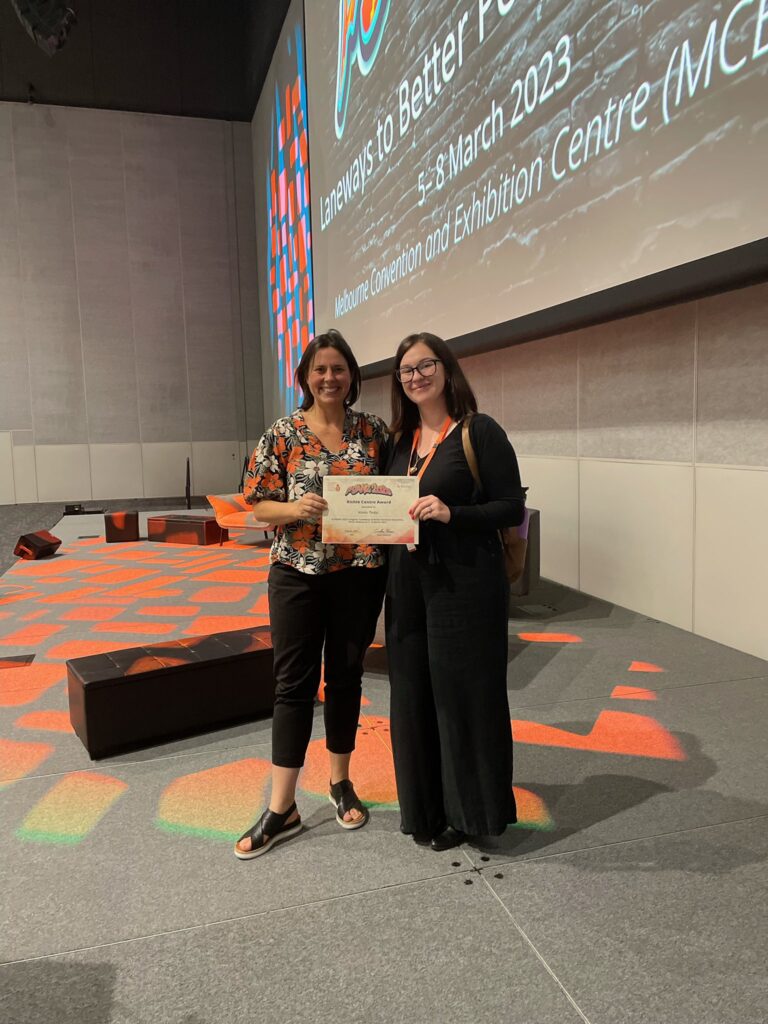 Special mention goes to PhD student Kirstin Tindal who was awarded the prestigious Ritchie Centre Translational Research Prize as an early career researcher award.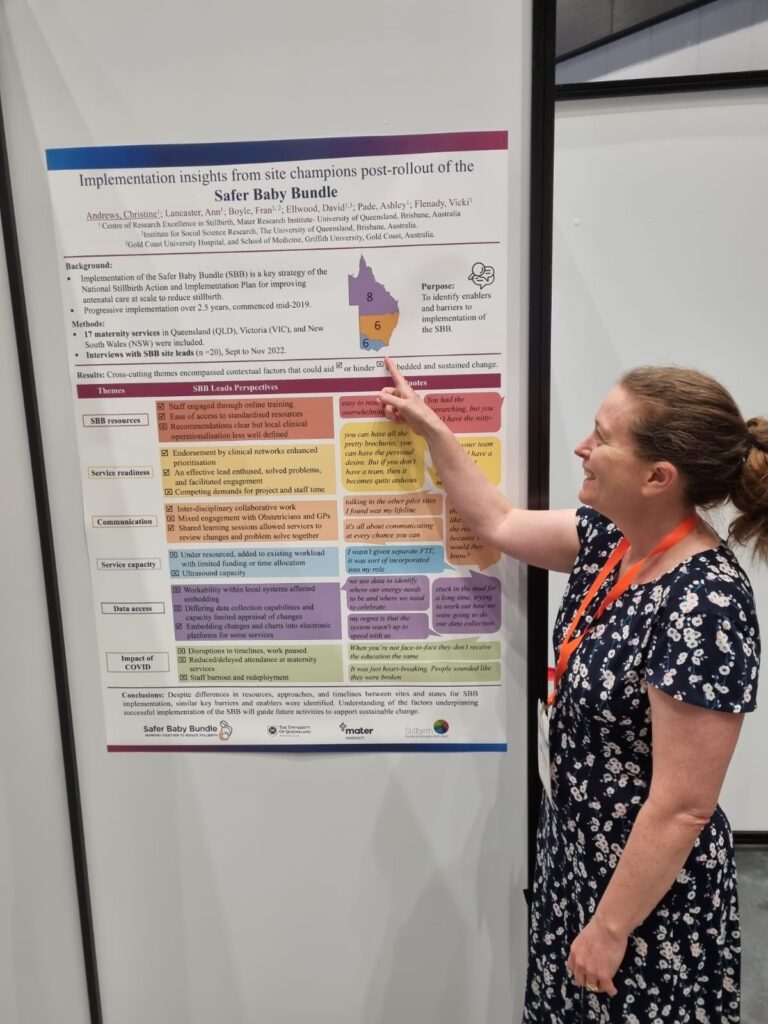 Christine Andrews (LHS) and Megan Weller (RHS) next to poster submissions.
---
Recently Published
Miranda Davies-Tuck has recently had a paper published in AJOG titled "Fetal surveillance from 39 weeks' gestation to reduce stillbirth in South Asian born women". The study evaluates the impact of offering fetal surveillance from 39 weeks for South Asian born women who have a higher risk of stillbirth compared to other populations.
Read more here: https://www.ajog.org/article/S0002-9378(23)00146-1/fulltext
Stillbirth CRE collaborated on an article that was published in Women and Birth recently, titled "Evaluating the reach and impact of Still Six Lives: A national stillbirth public awareness campaign in Australia". The evaluation assessed the campaign effects on empowering women and increasing community awareness of stillbirth.
Read more here: https://www.womenandbirth.org/article/S1871-5192(23)00038-0/fulltext
If you would like to feature your recently published paper in our newsletter please send it through to stillbirthcre@mater.uq.edu.au.