Guiding conversations with your health care team when your baby dies
When a baby dies there are often difficult decisions to make and things to plan. Some topics can be hard to think about or discuss. We have developed a guide for parents that will add to the information and support they receive from their health care team before and soon after the loss of a baby. It aims to help parents to explore options, to think about what is most important to them, and to support decisions that are best for them and for their baby. Topics covered include: preparing for your baby's birth, honouring your baby, understanding why your baby died, and leaving hospital.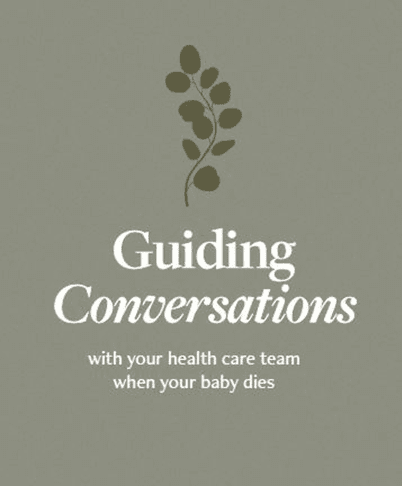 The Parent Guide is available to order from the Stillbirth Foundation Australia website. The online version is available here.
Where the Parent Guide comes from
Stillbirth Foundation Australia and the Stillbirth CRE worked in partnership to develop the Parent Guide. It is based on the Clinical Practice Guideline for Respectful and Supportive Perinatal Bereavement Care. Developed by the Perinatal Society of Australia and New Zealand and the Stillbirth CRE, this is the most current and comprehensive guideline to assist health care professionals in providing the best possible care for parents when their baby dies or is expected to die.
Guiding conversations with your health care team when your baby dies - the parent version of the Clinical Practice Guideline - was developed in consultation with parents, clinicians, parent support groups and others who share our vision of best care following the death of a baby.
The project was funded by Stillbirth Foundation Australia with design and distribution funded by Sydney2CAMberra. For more information please contact stillbirthcre@mater.uq.edu.au
Infant Autopsy Consent Brochure
This information brochure comes with a message of support following the loss of a baby. At a time of intense grief and many emotions, parents may be asked to think about an autopsy (sometimes called a post mortem examination) for their baby. This is one of the most confronting decisions for parents when their baby dies.
Most parents have questions regarding an autopsy, and we hope that this document provides information that will help them make the decision that is best for them, their baby and their family.
For more information please click here.